I'll be honest. There was a whole lotta PEZ this year during Christmas, and in the post-Christmas time.
Wanna see 'em? Umm, hrmm…okay.
PEZ goodness #1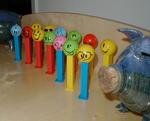 First up, the Funky Faces (a.k.a. emoticons). These have been out for a while, but I hadn't been able to find them in the horrible PEZ vacuum known as Texas. My sister Lisa bought these for me. She lives conveniently by one of my favorite PEZ joints in Michigan, Small Town Coins.
I have mixed feelings about this set. Yes, some of them are pretty cute, but I am pretty sick of "the PEZ Man" reusing the round mold (it's a baseball, it's planet earth, it's a Wal*Mart smiley, it's Funky Faces, etc.). Hopefully, in 2004 PEZ will be able to afford some new molds.
---
PEZ goodness #2:Emergency Heroes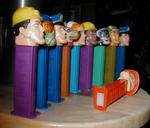 The Emergency Heroes set came to live with us before Christmas. I got them by stopping at every Wal*Mart and ToysRUs between San Antonio and Dallas. **BTW** Nancy wants me to let you know that there are many, many Wal*Marts between San Antonio and Dallas.
My thoughts: It's a great set. Sure, PEZ is cashing in on the current trend of "America is Super." Sure, they are reusing a few main molds (man, woman) and dressing them up with different accessories. It's still a good-looking set for being non-licensed.
Interesting note… PEZ has multicultural heroes in this set. The interesting thing is that they didn't just change to color of the plastic. For instance, the hair on the white construction worker is a different texture that the black construction worker. The face also has a slightly different shape.
---
PEZ goodness #3:Jeffrey Bunny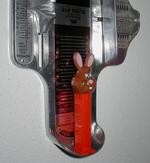 Jeffrey Bunny is a licensed PEZ that was created especially for a store called Dylan's Candy Bar in NYC. The bunny came on a custom card that was pretty nice (now I wish that I had taken a picture of it).
The mold is a standard PEZ Easter bunny mold, but it was cast in brown plastic to make it look like a chocolate bunny. This was a wizard idea. I wish I had thought of it. It looks so much better than the regular release.
btw, Jeffrey is standing inside of a Brannock device… you know, what they use to measure your feet at a shoe store.
---
PEZ goodness #4:Hello Kitty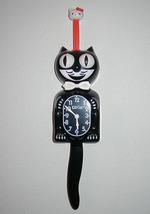 The Hello Kitty PEZ were another Xmas giftie (from Nanc) that came from Thailand (insert underage prostitute joke here). Nice set, beautifully done. Tres kitty.
The Hello Kitty PEZ are only available in Europe and Asia due to licensing with Sanrio, so don't expect to see them at 7-11 (sigh). They are a set of four, including Hello Kitty, umm…. hello kitty's cute friend and… uhhhmm –okay, I really don't know the names, and I am too lazy to look them up. I assure you though, they have names, they are pals of Hello Kitty, and they are cute.
In one shot, Hello Kitty is posing with another Xmas goodie from Nanc, a kit-cat clock.
---
Nope, I'm not even close to done with this freakish celebration to small plastic candy dispensers. Get comfy, you're gonna be here a little while longer.
---
PEZ goodness #5:Looney Tunes: Back In Action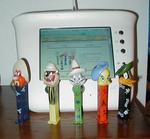 This was a giftie that I bought for myself from sjglew. They arrived earlier this week. I don't mind 'em too much, but Nanc thinks that they're ugly. In the past couple of years, PEZ has been starting to decorate the stems, instead of just the head.
I'm not really happy that they transformed tweety bird into a cheese-eating surrender-monkey replete with beret and Eiffel towers on her stem. oh, well…
They stand proudly in front of an Audrey showing a picture of them. Is that life imitating art imitating life? Let me know.
---
PEZ goodness #6:Sesame Street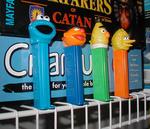 This is a set that should've come out several years ago. Very very nice. So happy with this one. It's another giftie from my sister Lisa. Originally released in Europe last year, the set is also starting to be released in the U.S. There are two additional characters for the States release (Elmo and Zoe).
I don't have Elmo and Zoe yet, but I'm not really in a big hurry either. I don't want to get into a huge discourse about this, but let's be honest – Elmo and Zoe really suck as characters. The Sesame Street that I grew up with didn't need 'em, and neither do I.
---
PEZ goodness #7:PEZ factory playset
This is pretty cool, a playset for kids along the same line as the BRIO toys. The set is well-made, and pretty big (my feet are used for scale in the wide shot).
I guess that these sets didn't sell very well, because they were liquidated at TJ Max after Christmas for twenty bucks. Oh well, their loss, my gain. Now, the only issue is storage. It's pretty bulky, and heavy.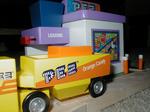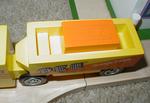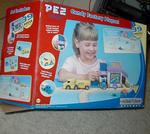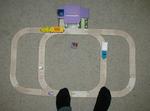 I never thought that I would get here, but this would appear to be the end of this entry. Stay tuned though, I'm sure that more is on the way!