As I've stated, I'm working to clear my house of my fabric stash, starting with the overloads of fleece. Well, I've been able to make some progress by whipping up hats for Ship Support.
Take a look.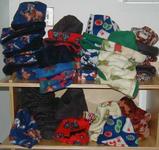 There are 30 double-sided and 25 single-sided fleece hats on this bookshelf. The double-sided hats (top shelf) consist of a patterned side and a solid, complimentary-color side. They are not meant to have a roll-up brim, but I arranged some to show the colors.
The single-sided hats (lower shelf) are pretty straight forward. Most are patterned, but about 13 are simple, black hats as a special request from a deployed unit.
These will be going out in the mail this week. Time to work on the kids fleece. No rest for the wicked. ; )