As part of my Stash Reduction and February Fleece Challenge, I've sewed up and sent a bundle of items for Bundles of Love.
I still have more fleece to use, but I'm that much closer. In fact, I've cut a lot more items out, but have wrenched my back during a marathon sewing session and am taking a break from my Singer. This may mean that my fleece deadline could be extended until… I can sit comfortably at the sewing machine.
But I'm happy with what I got done so far. There's pics if you click 'read more'.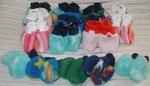 As promised, some pictures of what I sent to Bundles of Love in MN. I was able to get 17 newborn-size jackets done in a super-easy pattern. Fleece is nice for this, because you don't have to line the jacket. Each jacket has matching, fun buttons. No two jackets have the same buttons. (Similar perhaps, but not the same.)
I also made up a bunch of no-sole booties and mittens. These work up really quick and are great to use up scraps of fabric. Some jackets have matching booties and mitts, others don't. A good portion of what I still have left to sew are mittens and booties. Some other charity will get to benefit, I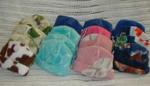 guess.
And last, but not least – hats. These were a bit disappointing 'cause the pattern was for newborn-size hats. Instead, they came out as 4-5 lb. preemie-size. That's fine and great – they'll still use them. It's just that they won't go with the jackets, mitts, and booties to make sets.
All in all, a good show of it, I think. Here's some more details of some jackets: