Or more appropriate, Mike's Christmas scarf.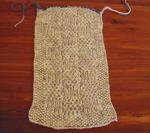 Last I wrote about this, I couldn't decide which of the two cable-knit scarves I would keep working on for my brother. This was *supposed* to be a Secret Santa gift for him… um, this year. But the fates were against it.
Well, I started a different scarf instead. I'm using the Lions Brand® Wool-Ease and making the Matt Seaman's Scarf. (Which, despite Matty's thinking, does not belong to him because of naming rights.)
I've worked the first tail and am about to start the neck ribbing. I really like how nice, yet understated this pattern looks.