I just wanted to give a quick "shout out" to two hats I knitted up on my round loom.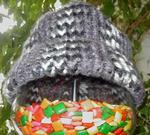 The black and white hat is mine. I wear it for the early morning walks when it's too darn cold. (I haven't worn it this week at all, yeah.) I used Lion Brand® Jiffy Thick & Quick in Smokey Mountains colorway. Because it's so thick, only one strand is needed and I worked in single wrap method on the loom.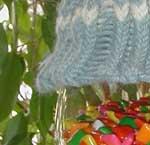 The blue and cream stripped hat was knit for charity. It'll go to one of the monthly charities on AC4C. I used LB Wool-Ease in Seaspray and LB Fisherman's Wool for the stripes. It's double-knit on the loom (one wrap pulled over two on the pegs) and I tried ribbing (k2/p1) for the first 3″ on the hat.
This turned out a bit strange. It's much looser than the rest of the stitches (which makes me think I did it wrong) and I had to tighten it up some before sewing the ends in. The finished look is a bit of a flair, which I think a young girl would like.