and hopefully lovin', too.
I've started a new knitting project; a set of baby blankets for the twins. I'm still on the first part of the first one, so there's not much to show for my efforts yet. (But when has that stopped any blogger.) But I'm learning so much.
Come take a peek…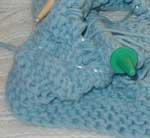 This is my first use of circular needles (or circs). They're taking a bit to get used to them, but I think that's also due to their size: US #11, 36″.
I also learned a new cast on method. Typically, I usually cast on with the e-wrap or the long-tail methods(names picked up from my closest book, The Knit Stitch), but neither were going to do it for this project. First, my e-wrap is fairly loose and with this yarn, it would be downright ridiculous. As for the long-tail style, with 128 stitches, that's just a lot of yarn to be working with for cast on.
So instead I learned the crochet cast on (also from the Sally Melville book). You use a crochet hook to make the cast on/knit stitches and the finished product looks much like the bind off stitches. Sweet!

Specs on the project are: katia&reg diana yarn in colors #14 (shown) and #21 (a darker, denim blue for the other binky). The yarn was purchased at a LYS, Yarn and Stitches. I'm working two strands together on those humongous US #11 circs (36″).
The real question is… Will I be able to complete both binkies and send them before the twins arrive? We'll find out. K says she's feeling fine and next week she's off of bed/couch rest and can go shopping (which she's really looking forward to). We're still hoping that the boys'll hold off until their 04/04/04 due date. The race is on!