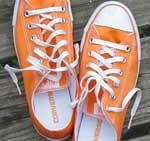 Click on the image for a alternative view.
Behold my Chucks!
I have never owned a pair of Converse before. Yes, I am part of the generation that brought Chucks into fashion. But somehow I missed the boat. (That happened a lot growing up.) So my Matty got me these. Aren't they delish!
I [heart] Cons. Especially Tang Cons.