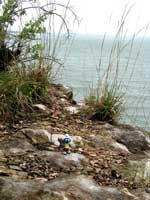 Smurfs like hiking. They like the outdoors. They love camping… a chance to get out of their 'shroom and into the great, wide open.
I like camping, as does Bonez. But you won't find pix of Matty or I blazing a trail or setting up camp. No siree. That's why there's Smurfs. Not only do they like adventures, but they love to pose for the camera.
Here's another foto of the backpacking Smurf.
Can't find our Smurfy friend in the pix to the left? Click on the foto for a revelation.