Would you believe that I've gotten some new PEZ? What a suprise!
I wrote this a few minutes ago, and then the internet ate it. I hope to capture the wit and sparkle of the first version. arrgh.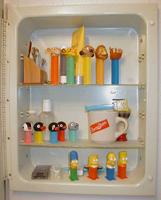 The Lion King II PEZ set was released in Europe earlier this year. I finally got around to getting a set of them from SJGlew. The set is very well-designed. I think that these dispensers are faithful to the Disney cartoons. For some reason, these PEZ also seem to have a glossier sheen than other dispensers.
Another purchase from Glew is the Pingu set (middle shelf). Pingu is a (supposedly) popular cartoon about penguins from Japan. These are a new type of PEZ. Dubbed "mini dispensers" by collectors, this series was created in conjuction with Japanese toy company Bandai. Although dimunitive, the inner workings of this PEZ are full working copies of the normal versions.
Also on the middle shelf is a new American release, SpongeBob SqarePants. He came from Toysrus. I did have the full set (including Patrick and Squidward) but people were paying crazy money for them on eBay when they first came out. I did what I had to do *grin*
The bottom shelf PEZ for today are the new set of party favor dispensers. This time around, the party favors are the Simpsons clan. They are about the same size as the Pingu dispensers, but the construction is totally different. Take a look at a

side by side comparison and you will see the differences.(The Simpsons party dispensers came from Target.)