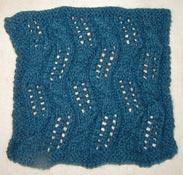 I knitted up these two squares as part of a "comfortghan" for a woman from my charity crafting group. (Click pix for close-ups.)
Even though we've never met, there's a connection with the people that I meet online. We are working together for the same goals and a bond is created at the same time.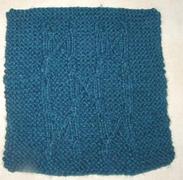 Sometimes, it's a 'virtual' friendship with a fellow knitter or blogger, but a friendship none-the-less.
This phenomenon of online social communities has recently come up in conversation at a few different places. (Alyshajane and Loobylu to name two.)
Just think about it.
Both squares were knit with an old ball of Tina of California® Ultra Loft in teal blue. (Personally, I think it's darker than what could be called "teal", but I don't really get a say in this.) Both patterns came from the 2nd Knitting Treasury book.
I don't particularly care for the lower square; the twist stitch (Heraldic) pattern doesn't show up very well in this yarn and it's not as exciting as I had hoped. But I really like the first square. This a pattern called Tilting Latter, but reminds me of hard candies. There's a bit of cabling that looks like the twisted ends of the wrappers to me. I'd like to find a project that this would be good for. Any ideas?