Lately, I've been on a Peeps® kick. I'm new to this snack item (nope, never had them before) and am amazed at the cult following these lil' guys have. It's not as straight forward as whether you like them or not; there's a wide range of feelings about them.
Personally, I started simple (just ate one out of the package) and moved on to more complex methods of consumption and snackage. I plan to post a synopsis of my overall trial and tribulations with the Peeps, but for now let me tell you about the marshmallow and rice bars.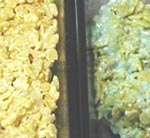 I followed the basic recipe for rice crispy treats that I found on the back panel of the marshmallows package. Of course, I wanted a comparison, so I made a full pan of regular treats and a smaller pan of the Peeps treats. (It's after Easter and I can't find Peeps in stores anymore until their next holiday, so I'm rationing the Peeps on hand for all of my planned recipes.)
1/4 c. butter
10 oz. (1 pkg) marshmallows (or 3-3oz pkgs of Peeps)
6 c. rice crispy cereal
Melt the butter in a large pan over low heat. Add marshmallows (Peeps) and stir until completely melted.
Remove from heat, add cereal, and stir until well coated. "Pour" into a 9″x13″ baking dish (coated w/ cooking spray for easy removal); and flatten with wax paper.
When cool, cut into squares and gobble them all up – Yum!
Because of my limited Peeps, I cut the recipe in third and made a smaller batch. Chick Peeps come in groups of five, which is only 3 oz.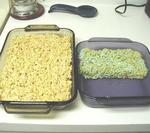 I decided to use seven, hence the two additional purple chicks swimming in the pot of melted blue.
Overall? Yummy. The extra sugar coating on Peeps doesn't effect the overall sweetness of rice crispy treats – at least not that I could notice after scarfing big chunks of each and washing them down with Kool-Aid. -ack-
The Peeps gave the treats a nice, pastel hue which might be fun for special occasions and birthdays.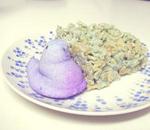 I didn't melt the purple chicks all the way down, so there were bits of Peep interspersed which were tasty. On the other hand, my marshmallows were a bit (read: way) stale, so the treats came out tough and a little blah.