… and Hershey® Caramel Kisses! oh, sweet heaven – life is good!
I finally made it to the Woolie Ewe and what glorious site that was! Yarn, yarn and more yarn – all fibers, colors and textures. Yum!
While I was there, I picked up Rowan® Big Wool and Lind 60&reg Tondo to make a felted purse. Some Crystal Palace® Cotton Chenille wanted to come home with me to become the Bloom Flower Washcloth from Weekend Knitting. And I couldn't resist a ball each of Gedifra® Shakira and GGH® Boboli in similar fern colors. What they'll become is a surprise.
Also in my basket was a Clover® Bamboo Circs US#15 and Chibi finishing needles. Plus later today, my Bonez got me the Spring/Summer issue of Vogue Knitting International. (Such a sweetie.)
In celebration of Cinco de Mayo AND my birthday month, Bonez and I went out to eat at El Fenix (we hit the geriatric "rush") and saw 'Mean Girls'. Yay – mean girls! Yay – the Tina Fey!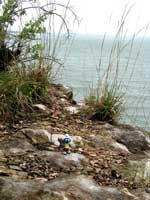 Smurfs like hiking. They like the outdoors. They love camping… a chance to get out of their 'shroom and into the great, wide open.
I like camping, as does Bonez. But you won't find pix of Matty or I blazing a trail or setting up camp. No siree. That's why there's Smurfs. Not only do they like adventures, but they love to pose for the camera.
Here's another foto of the backpacking Smurf.
Can't find our Smurfy friend in the pix to the left? Click on the foto for a revelation.
We're going camping [yay!] this weekend.
In preparation, I decided to be a good little camper and make fire starters. An added bonus is that I'm being good to ma earth; recycle, reuse, rehabilitate. (Okay, I just threw in the last one for s&g.)
Making fire starters is real easy to do. But just in case you don't have a camping or Boy/Girl Scouts guidebook to explain, I've laid it out for you.