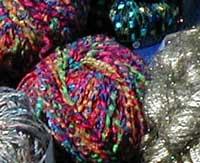 Oh – what a great and wondrous plentitude waited for me when I got home! It's like I was showered in Berroco goodness and riches.
A great big THANKS to fireballhead for the PEZ 4 Yarn trade. This is what she got from my end of the bargain. (Of course, it's the hubby's PEZ so I made out like a bandit all around! Bwa-ha-ha.)
As for the detail bits and parts, this is what I got in my bundle-o-yarn goodness:
2 Berroco Plume FX in Soft Blue (6740)
2 Berroco Plume FX Colors in Be Bop (6836)
2 Berroco Mosaic FX in Breakfast at Tiffany's (4697)
2 Berroco Jewel FX in Rhondonite (6905)
2 Berroco Opulent FX in Platinum (7808)
3 Berroco Quest in Platinum (9808)
1 Berroco Zen Colors in Nippon Blues (8117)
and 3 balls of Stacy Charles Asti in 'colore' 3
Can you see some fun/funky scarves in my future? I know I can.