It's been a long while, but I do have knitting updates for you.
A little bit here, a tad more there… nothing too exciting, but enough to share with y'all.
July was a long knitting dry-spell. I traveled for most of the month and a little knitting came on these trips. In both Honduras and New Hampshire, knitting provided me with a way to wash myself. (Yeah. You read that right: wash myself.) After my washcloth had gone missing from the line, I was able to knit up another to use the next day. (phew!) Luckily, the first washcloth was recovered and returned home to a happy Matt (it was his Badtz-Maru cloth). And in NH, I knit a quick, little [travel-sized] soap sack for us. I was also able to knit a mock-up/water bottle poncho as a model of what my niece can expect for her birthday present.

Pamelalala gave me a sweet [belated, but that's okay] birthday card and some buttons. On the card is a beaded dragonfly – which rocks! And the buttons couldn't be more perfect: two lucky cat buttons and two Smurf buttons, one of which is Angry Smurf. See how perfect these buttons are? They are typical items in my house. Yay!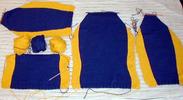 I've made decent progress on Tricot, spending my days knitting while trying to expel this darn cough. I've got the back and both sleeves completed, and am almost to the last increase in the front. Then it will be on to blocking, sewing, and making that final decision about the zipper. (To zipper, or not to zipper. That is the question.)
And finally because I needed an FO and Tricot was being allusive, I knit an egg roll for my kitties. A quick and easy pattern from the archives of knitty.com, the egg roll is stuffed with batting and, of course, catnip. And it is indeed meaty enough for our ample cats!

Click on 'em. Aren't my kitties cute.
Tomorrow is Crafturday and I'm so excited that I might have peed a little.