It's been a busy camp 'round these parts, but worth every bit. This past weekend, we decided that Jimmie (that's the Civic Hybrid's name… for now) needed to stretch his legs, or tires (or whatever would be relative to the car's anatomy). And since we've had a visit to another new boy on our To-Do list, it just seemed perfect to do them together.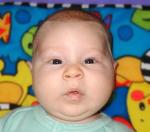 A few hours later and we were visiting with this handsome, young man. (Okay, so this really isn't the best pic of baby Jackson, but it makes me laugh.) JT was one day away from 3 months and is already a big boy. He laughs and smiles and is an all over awesome tyke. We like Jackson. And his folks are purty kewl, too.
Now we're just waiting for Ramona and it'll be a grand ol' time!