We are back from our winter wonderland trip to the north. Yes, it was cold and snowy. Yes, it was fun. Yes, we are glad to be back.
My fella' and I took the train up to visit our families in OH and MI. Yes, the TRAIN. Amtrak. Yes, it still runs and people (a few at least) still travel via this method. We both had a great time and highly recommend it as long as you have some spare time. I hope to write more or post another article just on our travel/train experience, so I'm not going into much now.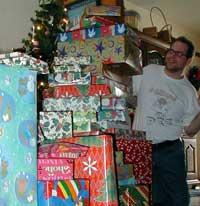 But the point of this article is to say that Yay!, we're home and the holidays were good to us. We hope they were good to y'all, too. And not that the gifts or the getting is the important focus of the holidays, but I had to share a pic of the bounty that Santa left at my folks house. Amazing, no? (Okay, so click the image to see a not so skewed image, but still insanity.) Between the two families, we ended up celebrating three Christmases and gift exchanges. phew!
Merry Everything and Happy Always