More hats, 'cause that's all I seem to be knitting. No, I'm not complaining. Just stating that all I seem to be knitting are hats. Hats are fine. Hats are okay. Hats are… well, hats. Not too complicated or technical; no great new stitches to learn. But they're good and steady knitting. Hats.

click for a close-up
I couldn't possibly send off the Big Red hat and mittens to Rachel and the Ugg hat and booties to Benny without including a topper for the Dad of the family. I couldn't imagine Jason in anything flashy or "cutesy", so I went with the basic, solid hat. It's quality, tho, folks. It's knit with Debbie Bliss merino aran (yum) in dark navy (almost black). I combined the patterns for the Seaman's Cap (sorry 'bout the creepiness there) and the Silk Garden Beanie, making a nice, snug hat with some roll up brim to cover the ears. I'm hoping that this'll be a great hat for under a motorcycle helmet.
It IS kind of plain and boring, tho. Any thoughts? I've thought about duplicate stitching some flames or a motorcycle image, even tire tracks but nothing really seems good. (Perhaps the lady of the house has a thought?)
I also knit a similar hat using Lion Brand Wool-Ease in Pine Print. It was knit for a friend, but given to another. Timing was the issue, besides… I can always knit more. No pic of it, sorry.

click to see who's hiding underneath
Another 'Big Red' hat is done and completed for my SIL Lisa. This one, obviously, isn't red. Nope, it's pistachio and gray (shiver) to match her winter coat. I used Rowan Big Wool and Big Wool Tuft again, because really these yarns are perfect for this hat.
Finally, alas and alac, I am still trying to get a good pic of Matty's Silk Garden Beanie. But he nearly wears it every moment of every day. What's a girl to do?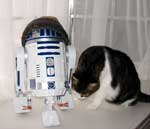 Update:
I snuck around while Matty was in the shower this morning and snagged some pix of his hat. And since he didn't throw a fit when C3PO modeled for me I thought it was R2D2's turn. The first pic is just for silliness. As soon as I put R2 up on the bay window, Dil wanted to see what was going on. Mouse over the image to see Dil's reaction.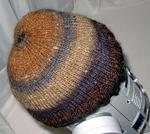 This second pic is a better look at the wonderful colors of Noro Silk Garden. In all those manly browns, there's a loverly stripe of lavender to give it some style.
Thanks R2. Thanks Dil. And thank you Noro.