I tried to figure out a way that I could have tied this one to the gadgets category, but I guess I will instead write my first knitting entry. Bear with me.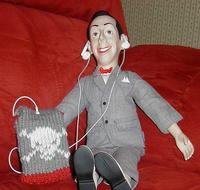 skullduggery
For Christmas I received an iPod from Nanc. Perhaps I am a clutz, or perhaps she really likes knitting cozies (or maybe I begged and pestered her). Okay, it was probably my jealousy over iPuss.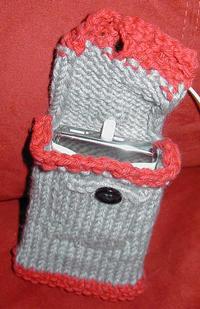 the back
At any rate, I did receive an iPod cozy that is modeled on the left by Pee-Wee. I asked him what he thought about it, and he said "I know you are, but what am I?", a typical response.
The cozy has a skull on the front to scare away bad music, and has a small pocket in the back. The whole case closes shut with a button.
I am pretty sure that the skull makes me look tuff. — well, I mean, tuff-er than I already look… grrrr.
Now let me tell you a little about its construction. The cozy is made of yarn… um… gray primarily, with a little bit of white and maroon. Also important is the button. The entire case was knitted on needles. They had points. I saw it all happen.
Okay, I didn't really see it *all* happen. I saw Nanc work on it, then take it apart, and suddenly it was done. If you want to know how to make one of your very own… well you may want to ask her.
Nancy interjects:
Hey folks. I'll just chime in here with some knitting details that Matty, er… 'missed'. I used Da Vamir Merino's Dodici in gray, kitchen cotton in um.. bright red, and some basic white acrylic for the skull; all stash yarn. This was knit in the round and I played with some knitting tricks to see if I could get it to do what I wanted. As Bonez stated, I had to "take it apart" a few times. I tried to do the skull as intarsia, but the size of the project and that it was knit in the round put a stop to that right away. So the skull is duplicate stitch and looks mah-valous, dah-ling. I plan to work up another one and write up/clarify the pattern a bit more before I post it for y'all. But I will. One day. Promise.