Not quite, but possibly a Cupcake O' Gold.
I've been searching and testing and trying out cupcake recipes from scratch on my dear friends and hubby. Oh, sure; they acted like my past attempts were tasty and good as they gobbled them down and smiled their sugar-crazed grins. But they couldn't fool me, no siree-bob. But this time I might have struck gold. Budget Gold Cake, that is.
I found the recipe for Budget Gold Cake in the Good Housekeeping Complete Guide of Cake Decorations. This tome is filled with some crazy ideas and some of the ugliest cakes ever. I remember the 70's and I fondly remember attractive cakes from my Mom. Good thing she never picked up this book!
The recipe is for sheet cake, but I had no problem changing this up. It only makes 18 cupcakes, though. The cake really rises and puffs up while baking, so keep to filling the cupcake liners only 2/3s full. (They'll dome nicely over the top without spilling over the edges.) The cake is very light and airy, not dense at all. The flavor's not very strong, so I may continue to look for my perfect buttery, yellow cake.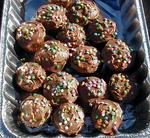 makes ya' so happy you wanna do the robot!
I iced the cupcakes with a recipe for Chocolate Buttercream from the current issue of Cook's Illustrated. It came out really tasty and chocolatey, but not over-the-top sweet. I like it! It might be my new favorite chocolate frosting.
To jazz the cakes up, I sprinkled on some flower sprinkles to encourage Spring to come around and stay. (I also used flowered cupcake liners for that added bit of delirium.)
I guess I'll just wait and see what the grrls have to say about 'em. Alas and alac, because there was limited cake batter, I could not bake a mattycake for Bonez. He'll just have to do with a single cupcake (and even leftovers – ha!).
Budget Gold Cake
Good Housekeeping Complete Guide of Cake Decorating
2 c. sifted cake flour
2 tsp. baking powder
1/2 tsp. salt
1/2 c. shortening
1 c. + 2 Tbl. sugar
3 egg yolks
1 c. less 2 Tbl. milk
1 tsp. vanilla extract
Preheat oven to 375° and line cupcake pan with papers.
In a medium bowl, mix together flour, baking powder, and salt. Set aside.
In the mixing bowl, combine the shortening and sugar at medium speed. Add the egg yolks and mix until light and fluffy, approx. 4 minutes.
Turn to low speed, and alternately beat in flour mixture and milk and vanilla. Mix just until smooth.
Pour into pan and bake for approx. 15 minutes, or until tops are golden brown and spring back when lightly touched. Cool on wire racks for 10 minutes, then turn out and finish cooling on racks.