No words can really explain the image you're about to see. I don't know why, but it makes me laugh. And that's even without going THERE.
My apologies to any and all that might read our site. No tragedy struck our lives (besides the fish, but more on that later), I am simply working way too much. ("Too much" is determined by the work/fun ratio, and these scales have definitely been tipped lately.) Let's just forget this bit of disappointment and go on, m'kay?
Two great things about knitting squares: first, they're a fairly quick knit, and second, even if they're not precisely L7 (um, like square) seaming a bunch into a large blanket will fix that problem fast.
Or so I hope.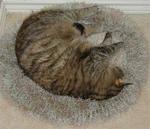 sshhh. be vewy, vewy quiet
To get your sleep. You need it, ya' know. Beauty rest (ha!) and all. You're not so young anymore. So find a cozy place to rest, and grab some Z's.
And if that catnap spot happens to be a kewl bed knit by the Skitterness herself, well then bonus. (Thank you, your most Skitterificous one. Mrow.)