As if that first behemoth of a list wasn't enough, I've got more. Did you notice something missing from that list? A genre of knitting. That one type of project that turns a mild mannered knitter into a maniac.
Yep, that's right. This here is my SOCK WIPs!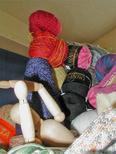 NOoooOOo!
Again, random is the order of the day.
But first a word of caution to the future sock knitters of the world. Take care with the yarn stash & hording. My poor, timber friend found herself in a terrifying predicament: a sock yarn avalanche (sock-alanche, if you will)! She suffered a bit of drama trauma and fiber burns, but is recovering nicely.
Manly Socks
Status: WIP
Approx. Start Date: Spring-ish '05
Approx. Finish Date: August 22, 2005 (crossing fingers!)

You like?

Percent Complete: 52%
Update: 1st sock is done and I've started the 2nd!
Pattern: Knit Socks! Classy Slip-Up
Yarn: Regia 4 ply Banner Color #5455
Needles: US#1 dpns Susan Bates (metal)
Intended Recipient: Bonez!
Notes: Matty's Bday is fast approaching and my hope is to have these done in time. Maybe I need a stronger feeling than "hope?"
Spoil-Me Sockettes

Mmmmm.. cozy
Status: UFO
Approx. Start Date: June '05
Approx. Finish Date: Fall '05
Percent Complete: 47%
(still need to sew in the ends of sock #1)
Pattern: Alison's Ankle Socks
Yarn: Rowan Cashcotton DK in magenta and limone (4 ply)
Needles: US#3 dpns
Intended Recipient: me
Notes: This may be my first true 'second sock syndrome'. It is also my first successful short-row toe and heel… and like Bot-Gurl, it kind of bugs me that both sides don't match. But for the comfort and cozy that awaits me, I should just get on with it.
FirstSoLast Socks
Goodbye, dear friend.

Status: UFO/Rip
Approx. Start Date: Um… 2004 sometime?
Approx. Finish Date: Er, 2006 sometime?
Percent Complete: 1%
Pattern: basic ribbed socks pattern that Ducky gave me
Yarn: Plymouth Sockotta in #07 Sunny
Needles: dunno, they're gone
Intended Recipient: me
Notes: These were the first socks I ever cast on for. At that time I didn't believe that the ribbing would ever fit. (Still don't.) So they languished. I've even stolen the needles to use for a different project. I really enjoyed how the colors was speckling, so I want to get these done. But when? I'll probably rip and redo.

Just a gentle squeeze
All this and I'm designing some socks! Yep, look'it me go. Barely a few socks under my belt, and I'm off finding my own trail. (Okay, not so much, but I'm highly amused by these socks and I think you will be, too.) Here's the yarn for two pairs; I'm trying each pair in a different yarn weight to see which I like better. But the colors are the important bit!
Also, there's been a challenge thrown down. To see if I, and anyone who wants to participate, can finish one (1) UFO in one (1) month. This doesn't go for WIPs; its about the items you've left languishing and haven't touched in months. Or the item that you bought yarn and the pattern for, but haven't started yet. I'm going to try and get the details together, but let me know if you're up for this challenge. If you're… (dare I say it?)… KNITTER ENOUGH!