Happy Thanksgiving!
We are in Catonsville (Baltimore) spending Thanksgiving with Nanc's family. While here, I took a minute to investigate a nearby Wal*Mart. Needless to say, PEZ ensued…
So, the Wal*Mart was a little different than most that I've visited for a few reasons:
It wasn't a megalo-super-gigantar mart. By Wal*Mart standards, the store was almost petite, and reminded me of an old Kmart.
The store held a cornucopia of PEZ, with a box of dispensers in almost every checkout aisle.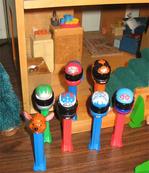 PEZ house
So, here's the score… I was able to pick up most of the Nascar dispensers. I also picked up a Roo from the Winnie the Pooh series.
The Nascar PEZ look great. I'm not a fan or anything, but um.. they look cool. There are eight of them all together, and I was able to pick up seven of them.
I had also been looking for a Roo for a while. I received Heffalump for my birthday, and it is good that I was finally able to complete my Pooh dynasty — which sounds kind of bad.
BTW, the doll house is courtesy of my niece, Julia.