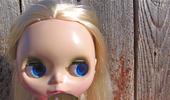 One of the biggest surprise gifts that Matty wowed me with this year (er, Christmas 2005) was a Blythe doll. To be specific, a reproduction Ashton-Drake blonde Blythe.
Read more, but beware: there's a bit of a rant-tangent that I went off on. Fun, eh?
My lil' Blythe girl originally came dressed in her reproduction ugly dress (very reminiscent of Holly Hobby IMHO). I have plans to knit for her, but a quicker response was to buy some doll clothes and see what fit.
Okay, so mini rant: What the heck is up with the doll clothes these days? The dolls our children play with look like strippers, hookers, and addicts! How could this have happened? The kids that play with Barbie® dolls aren't at the age where they watch MTV or are dressing like whores, are they? I mean, really? It's bad enough that the pink doll's image is disproportionate to reality, but to teach children that dressing like a porn starlet equals happiness? Even the boy dolls look like they work in the sex trade! Its just too much! (And I mean no offense to whores and the porn industry.) Phew… rant over.
It is a bit tricky to find the right fit clothing made for other dolls. First off, Blythe head is (to be blunt) gi-friggin'-normous! From there, her shoulders are broader, her chest is smaller, and her hips and legs are bigger than the blonde queen's figure. Supposedly Blythes fit nicely into Skipper's clothes, but since she's not made anymore… I tried a combination of Barbie® Fashion Fever (ugh) and Bratz® (groan). I even picked up some "boy" Bratz fashions, for something with a little more cover.
Luckily for me, I am not a young, impressionable child AND I can happily dress my Blythe like a 'ho. But for her first introduction, I wanted something with a little more modesty, but nothing drab like her hippie dress that she came in. I found this little number surprisingly on a Bratz! special edition Tokyo A-Go-Go doll.

Hee hee. I've currently set my desktop wallpaper at work to the image on the left. Sweet!