It's been a bit quiet around these parts, but know that this is only an illusion. A lot's been going on, just nothing all that blog-worthy. My knitting time (and knitting abilities) have been sporadic lately, which leaves a kind of funny taste in ones mouth. Like something is amiss.
So as not to bore y'all to death, there are fotos in the 'Read More' section, but only of single, unfinished-pairs of socks. Sad, no?
Other than some robots and a hat & scarf for Miss AnnaBeth (my Blythe. yeah, that's her name), I've been solely (ha!) concentrating on socks. I don't mean to be a heel (hee!) and ignore my other projects, but…
And actually, these have been ignored lately, too. I finish one sock and for a while I'm pleased as punch. But instead of starting the mate, I've been starting a different socks and I get all excited about that… for a while. It's a very sad and trying time. To top it off, I apparently screwed up one sock that I was ever so proud of. (That'll teach me, eh?) More on that one later, but for now enjoy my current singles club for socks.
Refreshingly fun!
Pink Lemonade sock:
Yarn: Lang Bebe color #65; bright pink, yellow, and jacquard
Pattern: modified cuff-down, short-row heel, stockinette sock
Needles: 2.5mm (US#1) Addi Turbo 40″ circular needle (my first *completed* sock-on-a-circ)
Notes: I have fairly thick calves and I loved how this yarn patterns up. Since I didn't want to lose that when the sock is stretched out, I decided to make the leg much looser than normal. I started with 100 sts for the ribbing. Then I worked down to 60 sts by decreasing 4 sts every xth row for x rows/x inches. The rest was worked in the normal fashion. The short-row heel is the Queen Kahuna method, which is easy to do, remember, and doesn't leave holes.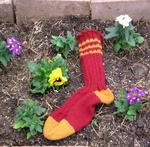 Like magic!
Gryffindor sock:
Yarn: Silja sock wool in gold yellow (318) and maroon (337)
Pattern: my own: toe-up, short-row heel, 3×2 ribbing
Needles: 2.75mm (US#2) Addi Turbo 40″ circular needle
Notes: I used the Knitting Fiend's toe-up cast-on, which is simple and gives a solid, strong toe. I started the ribbing an inch into the main color on the top of the foot, and continued it around the leg. There are three evenly spaced stripes in the gold, before another inch and the bind-off. I used the stretchy bind-off, adding a stitch after each segment of knits and purls (instead of after each stitch).
And finally a little something for my SockapalOOOza pal: I've found the yarn (Cherry Tree Hill) and the pattern (Pomatomus socks). Now I just need to free up some needles and get ta' knittin! Pictures to come soon.
A big thank you to Skittermagoo's new flower beds for the purty shots. Yay-flowers!