Knitting bees not your thing? Do you like a little action with your knits and purls? Do you need a cold environment to show off your rarely-worn winter knits in North Texas?
Then hurry up and get your tickets to Slap Stitch and watch some Dallas Stars hockey!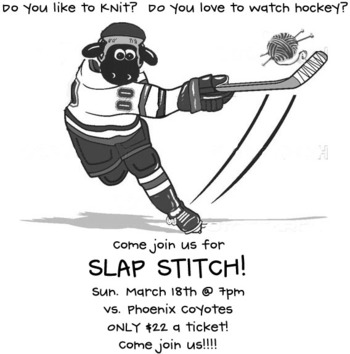 The game is Sunday, March 18, but tickets must be purchased by this Friday, March 2. (I'm sure that you could buy the tickets at the door, but you wouldn't get this price – $22 – and there's a good chance that you wouldn't sit in the 'knitters section'.)
The details are listed in this PDF, but the basics are to order tickets either call 214-387-5549 or e-mail MMoormanATDallasStarsDOTcom. (Replace AT with @ and DOT with . and you should be golden.)
Anyone up for knitting a puck cozy? Maybe some of those Babe skate blade cozies for your favorite Stars player? Perhaps a simple green and gold hat?
If your going (and boy, I hope you are), bring your knitting! This is a great opportunity to show some knititude to the locals. But alas, no scissors or metal needles. Perhaps this is to protect the players from those stalkers that get a little 'ice fever'? Not to be confused with our Stalker Angi.
Note: Props go out to Aubyn for getting the ball rolling and to Purse-ho for her mad graphics skillz.