Happy first of March. We are experiencing many firsts with our first child. Today, we were privy to hear her first laugh.
In the beginning, we were too concerned with everything that was going on and what it could possibly mean that we missed Evie's first smile – or, at least, to document it as such. We never knew if it was gas or a spasm, but now we totally recognize her grin and that it is for us (or the elephant in her mobile).
Evie's first laugh could not be mistaken for anything else. She had just woken from a good nap, had a fresh, clean diaper, and was about to nurse. I was chatting to her, as I'm want to do, and commenting on her beautiful smiles. Matty came over to see said smiles, and with both our heads close together and peering down at her, Evelyn chortled.
Two of the loveliest notes that I've ever heard.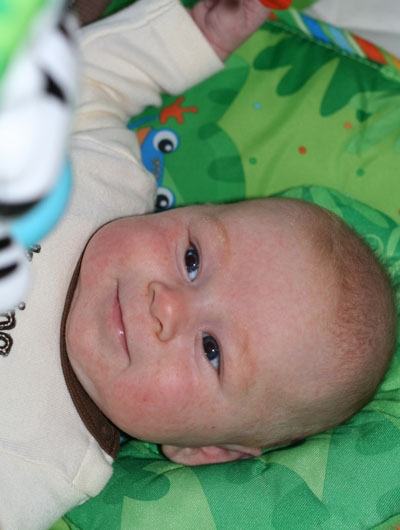 For this last month of my leave, I am attempting to take – and post – a picture of Evie every day. Call it my March madness. I can't promise any accompanying commentary, witty or otherwise.