Evie's Michigan Grandmother made it out of snowy AR, where they were stuck for a day, and was able to shower some love on this sweet girl. These two ladies hit it off right away, and soon enough Grandma had Evelyn sleeping in her arms.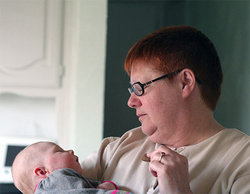 The quantity of ginger in this one setting was obscene: the 'ginger' Grandma holding her strawberry blonde granddaughter, while drinking Vernor's ginger ale and snacking on gingersnaps. Oh yeah, and they brought their golden retriever with them (which really should be called a copper retriever, ya' know).
And because it's Two for Tuesdays, here's a bonus pic from the other day.