Okay, so not THE debates. Just my debating over what my next knitting project will be. And there's a lot to decide between.
But instead of boring you with all the details, I'll give you quick satisfaction instead and tell you the outcome. (No. There's no voting.) I'm working on my HalloWig from the fall Knitty. It's fun, it's frivolous, and it's for me.

I swatched it after dinner and while preparing for the VP debate. My swatch seemed to make gauge okay, so rip-rip-rip back to the yarn pile and I cast on for my wig. Notice my drink in the pic: pink Kool-Aid (strawberry-kiwi) to match my knittin'.

I'm using Lion Brand Cotton-Ease in Bubblegum and knitting on my Denise US# 8 needles. During the debate, I was able to work on the start of it and I'm happy with my progress. But I could only take so much debate and so much 2×2 ribbing before I had to get up and do something else. Yeah, see how I've even switched to water – it was just too much.
This might become my lunchtime/work knitting project for a bit. Well, at least through this week. And no, I haven't forgotten about my knitting pile of wanna-be's and need-to-do's, and neither should you. For those of you that care, there's more to read.
Giraffes, apparently.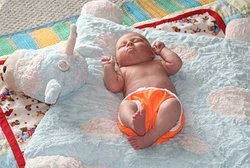 We love this fluffy, soft (so, so soft!) cushion for Evie to lay out, but to be honest there was a lot of discussions and debates on what kind of animal this is. Then we saw the tag stating it was a giraffe. Can't argue with that, huh?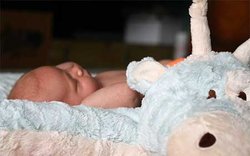 Evie's Great-Uncle Ike got this for her. She likes.