I can now, if desired, do copious amounts of washing (dishes) with a variety of dishcloths. Um, … yay?
I can't say that I'm thrilled with the prospect of hand-washing my dishes, but I am tickled with my selection of hand-knit cloths. I can finally throw out the kitchen sponge and all it's icky bacteria-ness, and enjoy a new dishcloth every day for a while.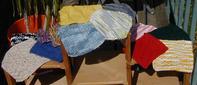 There is a sum total of 11 dishrags and 2 scrubbies. Yup – these were knitted, too, with nylon netting (tulle). They were a little more difficult to knit, but since they only need to be a fraction of the size, I managed.
Come on, I know you wanna see 'em.