So. Um,… we moved.
Yeah, well, Matty and I are bad people. You see, we moved mid-November and haven't really passed the news on to many people. Oh, sure. We told our folks and siblings… well, most of them I think. And the USPS is forwarding our mail, so we got all those loverly cards. Thanks.
It's just that we've been so darn busy. Yeah, yeah – I know that you've heard this excuse up and down the block, but really. We learned an important lesson this year. If at all possible, don't move from Oct through Jan. It's just too much.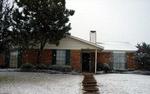 So without further ado, I give you a pic of our new abode. This was taken on Dec. 22, just before we took a cab to Union Station to catch our train. (Yes, it was snowing in Dallas.) House living is so different from apartment living, in really small yet pleasing ways.