Travel can be one of the most rewarding forms of introspection. ~
Lawrence Durrell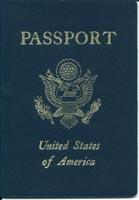 I've got my passport and the flights are booked! The Honduras trip is a mere 38 days away. Can you believe it?!
Yeah, I've still got tons to do and Spanish to study. I've completed the first full Pimsleur class (30 lessons) and I've started the next. Hiking boots, mosquito netting, and Deet need to be purchased, and I hope to make some quilts for the villagers.
Click on the passport to see my avatar image. Sweet, huh. Interested in making you're own image? I was led to the site through Tjej's blog, which is always an interesting read.

One of the items that came back from New Hampshire was a Macintosh SE. Manufactured in 1990, this little computer is made of hearty stock. It's my newest computer project.
This is the first Mac that I've encountered since college (Windows/Unix boy), so I am looking forward to figuring out what exactly to do with it!
I'll be updating this article as work progresses, so check back often.