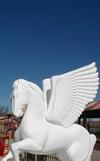 is this a good luck sign?
I've done some more thrifting for reusable sweaters/yarn. During a day-trip out with the girls, I scored a mixed bag of winners: some sweaters to rip for the yarn and a felting project. Plus a bonus cardigan, originally bought to rip – I like it how it is and don't think that I could do the yarn any better justice.
First though, I must remark on the amount of fun we had that day. Oh, the tears of laughter that rolled. Over coffee, grand schemes were made involving a 'lifted' golf cart and crazy capers – hillarity insued. We dined at VietNam-the restaurant, outside of which is where I spied the pegasus, before heading out to the thrift. No knitting mice were found (which seems odd – did someone buy them all up? Is there someone else with a room full of skilled creatures knitting? Eep.), but good times were had by all. Or at least by me.
'Read More' for the rest of this article.