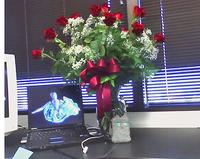 Lookie what I got
Hey you! You with the reciprocated love. Five years… its the tip of the iceberg.
Happy Anniversary, Bonez.
**Update** And just so you know that it really is reciprocal…
Now don't you feel special? Two memes, one post. Could you ask for any more insubstantial blather?
There is a bond between a man and his cell phone. This bond is sacred and must not be broken.