More hats. Well, one more. For my MIL, Sue.
Let me preface this by stating that she picked out the colors; apparently it's a society thing. And I thought that it would burn my retinas to knit it, but it wasn't so bad. In fact, it was kind of nice and fun.
a muted pic of the yarn
While we were in Frankenmuth this past Christmas, Sue-mom helped me pick out the yarns to make her a hat. Yummy Lorna's Laces Shepherd Worsted (superwash wool) in Bold Red and Berroco Zoom in purple. Next I needed the perfect hat pattern. I couldn't do any better than the one and only Bonne Marie's Bucket Hat.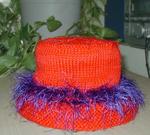 stylin'!
This pattern was fun and easy – (bucket) hats off to Mme. Burns. I knit the smallest size because I was told that Sue-mom has a tiny, wee head. (Boy, I sure hope so 'cuz this sucker is teeny.)
I followed the pattern exactly, but adding the eyelash yarn just before the brim ended/after going to one strand of yarn. I continued carrying the eyelash with the wool for four rows after the last purl row. And IMHO, I think it turned out wonderful. So much so, that I may have to make one for me (in not so eye-catching colors).