Rip! I was reading Schopenhauer last night.
Rip! And I think that Schopenhauer was right.
Man, I lurve me some Pal Joey. This is one of those good films/musicals which my father and I share a joy of. As I sat ripping unfinished objects (UFOs) last night, I kept singing this Rita Hayworth song in my head.
Weep... Netflix doesn't have "Pal Joey" to rent! And I'm sure that I've thrown out my Rita Hayworth music tape ('member those?!). Well, damn.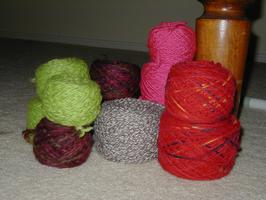 Returned to tasty lil' yarn cakes again.
Updates to WIPs and UFOs mentioned in previous articles (here and here). Yep, folks. You heard right. Rip. RIP! Rrrrrrrippp! Let me quickly run down the list for ya'...

Liam's Cable Sweater: Rip! Less than half of the right front was done. He's nearly two years older. Ain't no way.
Monkey Scarf: The pattern really wasn't doing it for me. Perhaps instead of wasting my time on the scarf, I'll just go ahead and try to conquer the cardigan first. Heh?
Shapely Tank: Gone. The front? Knit two summers ago and in a tighter gauge than the back, which was knit this spring. Ain't gonna work, no matter what blocking. Better to rip it all out!
Oh... and the purple-y and lime-y yarn cakes in the pic? That would be a to-be-felted bag I started a while ago (perhaps even 2003). The plans for this yarn is still the same, I just need to find the *right* pattern.
In some happier news... I finished Matty's Manly Sox. I just need to block them and he's good to go. (He's been waiting v. patiently for these. Such a good boy.) I need to make some sock blockers, and I'll have a story to go along with this, too. Patience, young jedi.
I've also started another sock project - Gryffindor Sox! I'm working a toe-up pattern on one circular needle. The toe and heel are contrasting gold and there will be some stripes on the leg as well. I'll be attempting some intarsia in the heel, too. (Crazy, I know.) I will try to get pix up as soon as possible (or when there's something to show).
Posted by Nanc at
02:05 PM
|
Comments (5)