May 12, 2003
More Babies
How better to share my birthday month then by giving to two charities helping babies.



I didn't want to decide between the two May projects, so I made what I could and split them between both. Both charities, Warm Hearts-Warm Babies out of Colorado and Webb Babies from Austin, TX (nearly in my backyard), focus on helping wee babies.
Together, I sewed up a handful of requested items, like flannel-lined blankets, preemie clothes, and (sadly enough) preemie burial items.



It broke my heart to make the burial items, but it hurt more thinking that some families might not have even this to say goodbye. Included in the burial sets are a small blanket, burial gown and a keepsake swatch of cloth, all adorned with lace and ribbon.
Posted by Nanc at
11:37 AM
May 04, 2003
Stina's BCW
Christina's unique and curiosly-warm quilt has a great story interwoven in it for those in the know. (Wink, wink. Nudge, nudge.)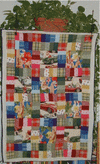 One of the biggest compliments that I got for the CW quilt was that our friend Christina (Stina) would always be wrapped in it when she came over. I mean you couldn't separate this quilt from the girl. So it was decided that Stina needed a quilt of her own. The challenge was having it match her style and personality. Matty helped me with the ideas and I started the 'Stina quilt', or BCW as we call it around the house.

As the quilt started to come together, it seemed that the sultry poses on the quilt blocks would add to the heat of this quilt. The final piece d'resistance is the backing. The huge, fleece terror-fighting backing. This really made the quilt for Stina - and just in time for the war.
Here's a few snapshots to keep you warn until you have your own curiously-warm quilt.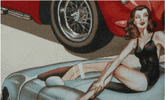 Posted by Nanc at
03:21 PM
May 02, 2003
Polyester placemats: the true Hollywood story.
How can one simple fabric cause so much harm? See what happens when you place me up against man's worst invention.
Before my parents came for a visit, they called to see if I wanted any of the fabrics left from my grandma. "Sure," I say, unknowing and innocent. I could use extra fabric to make more for charities. "Bring it on!" (Do you feel the chill of foreshadowing down your spine?)
So my parents show up with boxes (BOXES!) of something that smells. Hmmmm, I'm sure it can be washed. We open them up and -whoa! All I see is polyester. And not today's kind, no. Double-knit poly. The kind that withstands the test of time, but not fashion. Polyester that gave rise to the disco revolution, then turned it's ugly head and caused toxic fumes and melted flesh when it caught on fire. How much evil can one fabric cause?
And now it's in my house.
OK, so I've been given this quantity of man-made fabric that is basically unwearable. Plus, it stinks. A lot. I try washing it to clear the air. This works okay, until you actually try to use it for something. Then the scent comes screaming back at you like other demons from your past! Arghh.
So what's a girl to do? I sweetly make a set of placemats for my dear mum for Mother's Day. Surprise. Happy Mom's Day! Enjoy these durable dining decorations, but please - keep them away from any candles!

Oh, yeah. I still have plenty of polyesters to use up (and in such loverly browns and cords). Plus yarn. Plenty of yarn. Yarn of which I don't know how to clean (so it still stinks) and I don't know how to knit or crochet... yet. ;-)
Posted by Nanc at
10:39 AM