Hi, this blog has been upgraded, but I'm leaving the old pages online until the search engines catch up. If you want to join the discussion, this may be the page you're looking for on the new site.
Wedding Pez
After a few years of languishing half-completed, I finally finished the article on my little sister's wedding PEZ. Even if you read this on the old site, there's some new stuff too, so I don't feel at all bad about rehashing this entry on the front page. So, come on in, relax, reread your favorite parts, and be awed at the new information!
...or something...
Update -- May 13, 2007
I've received several requests for this, so, here is the Heart Pez template that I used when creating the decals for my sister's PEZ. The zip file contains the graphic in both .EPS and .AI format (should work in Illustrator 8 and up.)
All the standard rules of downloading something from the Internet apply. This worked for me, it may not work for you. If the file somehow breaks your computer or ruins your life, I might feel bad, but I'm not responsible. If you're worried about such things, please check the file with a virus scanner before unzippin' it.
Back to the article...
Creating Custom PEZ in 9 E-Z Steps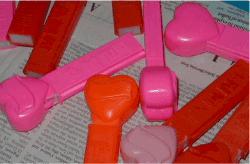 pez is good food
When Rachel (my little sister) and Jason said that they were going to get married, I immediately thought, PEZ. (If you don't know what Pez are: #1: Shame on you; and #2: They are a little candy dispenser.) I had this picture in my mind of the Valentine's heart pez with their names on it.
Then I had to make it happen.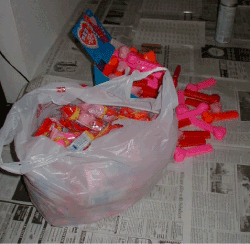 Step 1
Step 1: Get a ton of Valentine's dispensers. The best time to do this is around Valentine's Day. Don't be worried by the looks that you get by the clerk at Michael's Craft Store. Don't be worried when you get home with bags that look like this: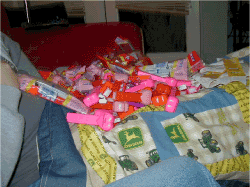 Step 2
Step 2: Open the Pez. This is no ordinary job. It is only for the brave. So, of course, Nancy took care of this.
By this time, I had come up with an idea. I remembered putting decals on models when I was younger, and I thought, "boy they should really make decal paper that you can print on." So I did a google search for "decal paper printer" and there it was. I ordered from a place called Bel Inc.
Step 3: Soon the decal paper arrived in the mail. Before it arrived, I was busy. First, I needed to create a template design. The printed area on the Pez is a little curvy.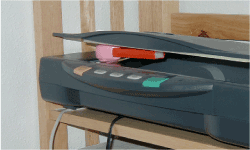 Step 3
I felt the best way to get the curves right was to scan the PEZ.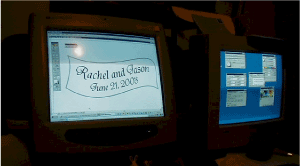 Step 4
Step 4: Then came the design. I relied on my trusty copy of Illustrator to get me through the hurtle. Ever the documenter, I took a picture to preserve the moment.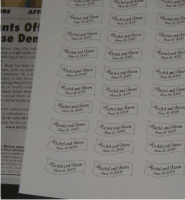 Step 5
Step 5: Printing the decals was next. I thought this was going to be relatively easy, but after they were printed, I had to coat them with several coats of Krylon Acrylic. This would make them waterproof. The instructions that came with the paper said that it would take 2-4 light coats. They really mean five heavy coats. Here are the decals drying.
Step 6: Next came the fun part. Defacing the Pez. You see, the Pez all had "Happy Valentine's Day" written on them. I needed a blank place to put the decal. I love Pez, and I don't recommend abusing them, but these Pez had a higher purpose. I tried several different methods before I settled on...
Lighter fluid. This stuff is amazing! See it in action below.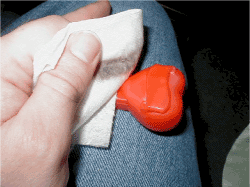 Step 6
See how quickly it removes the printing? Here is another photo mere seconds later. (Only three easy payments of $19.95, and if you call in the next 20 minutes, we'll get rid of one payment!... oh, nevermind.)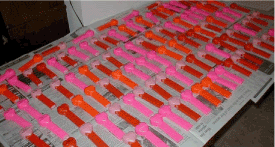 Step 7
Step 7: The next step is to lay the Pez out like a little tiny army. This is very important as it makes you feel all powerful.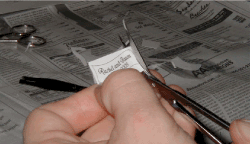 Step 8
Step 8: The definite worst part was cutting out the decals. This took steady hands and nerves of steel. I cut the one in the picture as a photo-op, but Nancy cut up most of them.
Free Tip: Use the sharpest scissors that you have in your house (unless they're Nanc's sewing scissors). Seriously, the sharper the edge, the less problems you will have with your decals later in the process. The reason is that you want as much of that thick coat of Krylon that you sprayed on to stay attached.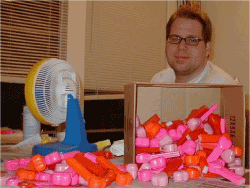 Step 9
Step 9: Then you have to take the decals, dip them in water 'til the backing starts to come off, and attach them to the Pez. (The instructions that came with the decals say to soak for a minute, but I found that 15-20 seconds worked best for me.) Then, repeat. Stop before you look like this. (Note the small, plastic fan that is saving me from inhaling deadly chemicals. Hmm.. the fan looks pretty small. If you try this, I would suggest a larger fan.)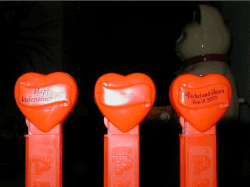 ta -da!
Once they are dry, you can admire your amazing talent. The decal actually looks very good.
---
Update: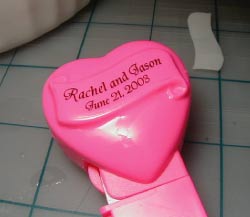 close up
This is a post script that I wrote about two months after we were finished. I needed to add a couple of additional details that might make it easier if you are trying to do this, too. Below is a close-up of the PEZ right after I put a decal on. Even up close, this looks pretty good. It will only look as good as your printer can print, though. If you are printing the decals at home, make sure that you've cleaned your printer, and print a couple of test pages before printing on the decal paper. If you have a nicer printer at work, use it! Just make sure that you get the right kind of paper for the printer that you will be using (inkjet or laser).
After you have the decals attached, let them dry for a day or so. Don't try to soak up all the water immediately, or you may ruin the decal. The water will evaporate off and leave a great looking image. If you let the newly-decorated PEZ sit around for more than a week (without sealing them), the glue will start to degrade, and the decals will start to pull up around the edges. This issue is exacerbated if you use dull scissors to cut the decals out.
spray template
To permanently affix the decal, you will need to spray 1-2 additional coats of Krylon onto the decal. I created a template to protect the PEZ, so that I only sprayed the decal. I used some thin plastic sheets from a craft store that are used to make stencils.
Free tip: If you are going to be spraying a ton of these, go to your local drugstore and buy a package of medical latex gloves. It will cost about six dollars for 100, and you won't have to scrub the Krylon off of your hands every night.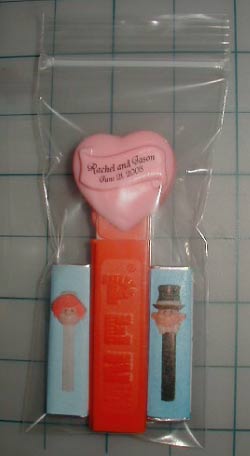 all finished and pretty
For packaging purposes, I bought a bunch of PEZ-sized ziplock bags from sjglew.com. I also made special candy packs. The PEZ were a big hit, and it was pretty cool to be in a room and hear so many dispensers clicking at once.
In retrospect, it was a lot more work that I had expected. Nanc and I ended up making 125 completed wedding favors. Was it worth it? Yeah...it was.
(Best wishes for your marriage, Bird and Bear!!)
If you're working on a similar project, and have any questions about anything that I've written, let me know.
# # #
read comments
Hi, this blog has been upgraded, but I'm leaving the old pages online until the search engines catch up. If you want to join the discussion, this may be the page you're looking for on the new site.